Warum so panisch – Illustrated Book
My graduation project is dealing with the uncomfortable and sensitive topic of panic attacks. Anxiety disorders are widespread, and it is of significant relevance to further address this topic to mitigate stigmatization.
Since panic attacks can be an overwhelming and in general not very attractive topic, I decided to approach it in a lighthearted way, mainly by using a vibrant illustration style and designing easy-to-understand spreads of images.
I. Opening
The first chapter is describing the sudden impact of a panic attack and how it changes the perception as well as the overall feel.
II. Educational information
Giving insights on the psychophysiological process during a panic attack and "answering" why humans develop the emotion of panic.
III. Perspectives
Developing characters matching the most common types of anxiety disorders by highlighting typical feelings, emotions, and circumstances of these conditions.
IV. Release
Addressing issues that are in the interest of every member of the society, but also maintaining a positive and humorous tone overall.
V. Closing
Finishing up the project with a glossary containing Information such as medical definitions, a list of symptoms, further readings, and other useful information. A big thanks to everybody who supported me in the process of creating this book.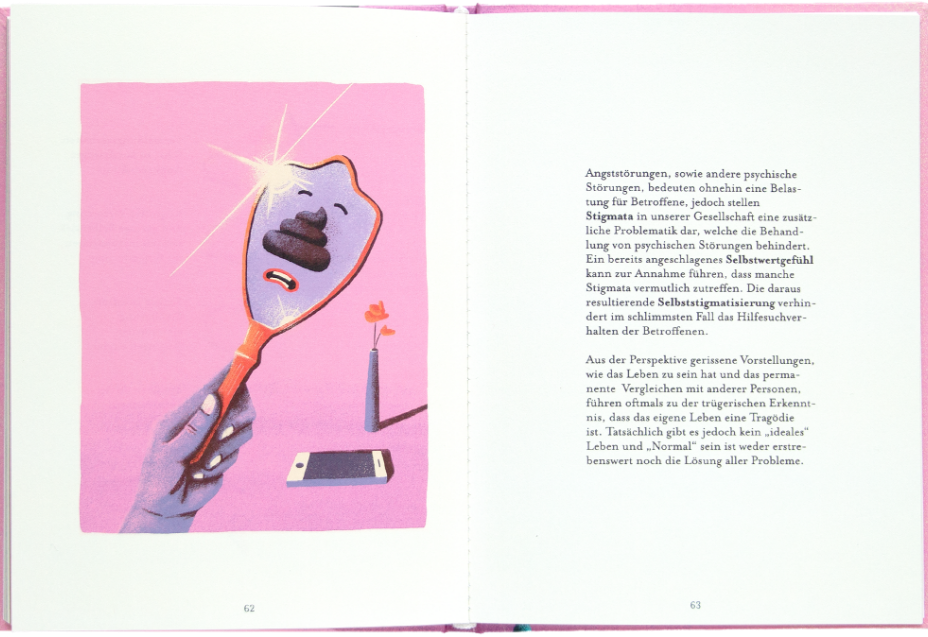 Last Project
Back to Top
Next Project